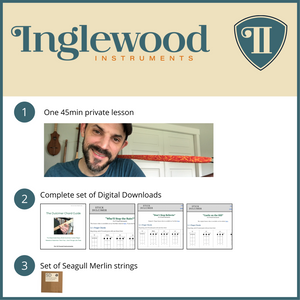 NOTE:  THIS IS A DIGITAL PRODUCT, NOT A BOOK(s). THERE IS CURRENTLY NO PHYSICAL PRODUCT AVAILABLE.
Whether you're new to stick dulcimer guitars or an experienced player, this essential bundle is guaranteed to add value to your music and your life!
You will receive the following:
(One) Private 45-minute lesson with Ryan Pryor to pick up some new tricks and hacks or learn about your desired skill.
Full lifetime access to all digital downloads of chord guides and tabs (future and current).
Set of new sparkling fresh Seagull Merlin strings (G or D). **

Private lessons will be scheduled via email exchange following the sale and will be conducted via Zoom with a video recording of the lesson offered as well (should you so choose).
** If you don't own a Seagull Merlin dulcimer, but this seems like the right bundle to you, go ahead and grab it and email us (hey@heyinglewood.com) and we'll just extend the lesson an extra 15-minutes ;-)