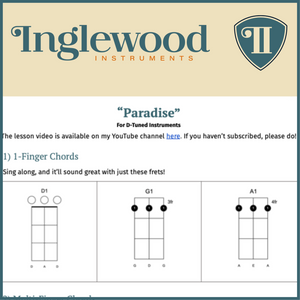 Learn this song from  beloved country-folk singer-songwriter, John Prine.  The original recording of "Paradise" is in the key of D so all you "D" tuned players can play along in the same key.
And if you're interested in learning a LOT more about dulcimer guitar chords, please check out the Complete Chord Guide. It offers options on different chord types, versions you could use instead of the ones I suggest, as well as the why's and how's of playing (technique). I think you'll like it.
This version is for D-Tuned stick dulcimer guitars. If you'd like to play it in another key, check out the Free Dulcimer Key Change Guide.


And if you haven't seen them, we have an ever-growing set of other Dulcimer TABs Song Guides! Check them out.