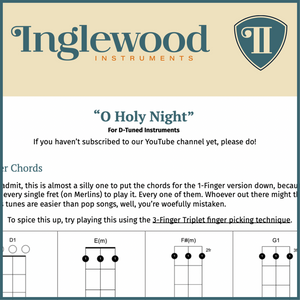 We must admit, this is almost a silly one to put the chords for the 1-Finger version down because you need every single fret (on Merlins) to play it. Every one of them. Whoever out there might think Christmas tunes are easier than pop songs, well, you're woefully mistaken.

To spice this up, try playing this using the 3-Finger Triplet fingerpicking technique. 
Check out our complete stick dulcimer guitar chord guide, and enjoy the complete lesson video.
If you haven't seen them, we have an ever-growing set of other Dulcimer TABs Song Guides! Check them out.