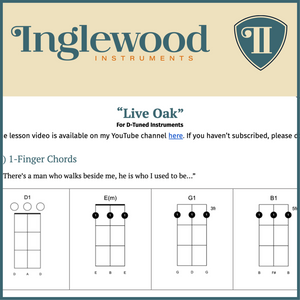 I might get into some sort of argument over this statement, but I think Jason Isbell might be one of the finest songwriters of his generation. This song is a perfect example of a murder/sorrow ballad. I listened to a podcast with producer Dave Cobb who said this recording was done in one take in a bathroom during pre-production and they left it that way. It'll get you.

Check out our Complete stick dulcimer guitar chord guide, and enjoy the complete lesson video.
This version is for D-Tuned stick dulcimer guitars. If you'd like to play it in another key, check out the Free Dulcimer Key Change Guide.

And if you haven't seen them, we have an ever-growing set of other Dulcimer TABs Song Guides! Check them out.
And when you have a website, you have to push your own music videos on people, right?  Here's an example of how to use stick dulcimer guitars in context with a lot of other working pieces.  While the acoustic guitar was the foundational track, we used around 4 total pickin' stick and dulcimer guitars for the various tracks (watch the video, you'll see what I mean).