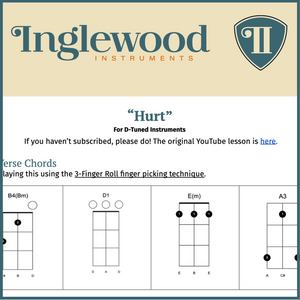 "Hurt" was originally penned by Trent Reznor, but when re-imagined and released by Johnny Cash it became a totally new animal altogether, and most would consider his version the definitive one today.
The original recording is in C / Am, so if you have a D-tuned instrument you could play along with ol' Johnny by tuning down one full step. Since this version is for D-Tuned stick dulcimer guitars, if you'd like to play it in another key, or play along with someone else on a different instrument, then might we recommend the Free Dulcimer Key Change Guide as a resource for making that happen.

This lesson does not have a 1-Finger approach, but you could do it with 1-Finger if you simply follow the chord names relative to the frets (i.e., 0=D, 1=E, etc).
For even more chord options, have a look at our Complete stick dulcimer guitar chord guide, and enjoy the complete lesson video.
And if you haven't seen them, we have an ever-growing set of other Dulcimer TABs Song Guides! Check them out.
And, in case it helps, here's the way Ryan approached playing this song.  It combines a lot of different techniques from other videos (fingerpicking, chords, etc). The arrangement of the recording is such a brooding and building mood, it would be helpful to hold off on full pick strumming until the end of the song.
Enjoy!
And if you haven't picked up a Seagull Merlin yet, if you're riding the fence, take a few moments to look around at the resources and the competitive pricing on our products!