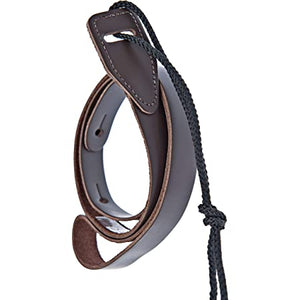 Made originally for mandolins, this brown leather dulcimer guitar (by D'Addario) is great for Seagull Merlins, Strumsticks, and our own Model 1.
If you have another type of instrument, you'll need a strap button on the base (right side, when holding) side of the instrument.  The other end ties around the peg head.
The strap has four pre-cut holes to offer adjustment for your strap height and feel, and it's 3/4" wide, and ~47" long, excluding the string tie at the end.