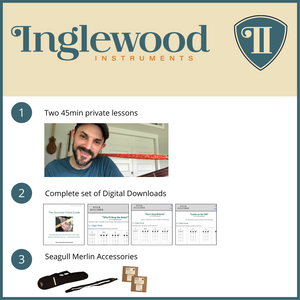 NOTE:  THIS IS A DIGITAL PRODUCT, NOT A BOOK(s). THERE IS CURRENTLY NO PHYSICAL PRODUCT AVAILABLE.
If you need something to help take your dulcimer skills to the next level, then this is the bundle for you!
You will receive:
Two (2) 45-minute private lessons with Ryan Pryor to learn new skills and refine the art of playing the dulcimer guitar.

Full lifetime access to all our digital downloads (current and future) including chord guides, tabs, cheat sheets, and more!
*  Seagull Merlin gig bag to transport your dulcimer guitar safely.
*  Shoulder strap to give you additional comfort and balance while playing.
*  Two sets of new strings to keep you sounding professional.
Private lessons will be scheduled via email exchange following the sale and will be conducted via Zoom with a video recording of the lesson offered as well (should you so choose).
* If you don't own a Seagull Merlin (maybe you've got a Strumstick or pickin' stick), then this Ultimate bundle isn't the best fit, and you should consider separate private lessons, and/or the Complete Download Bundle.