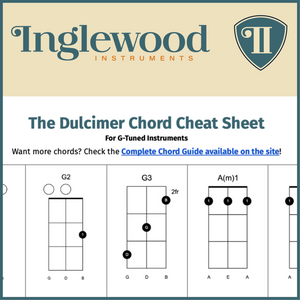 THE Dulcimer Guitar Chords Cheat Sheet in G - Get Learning!

Antsy to get straight into playing, and looking for the quickest ways?  Here you go.
These are the essential chords you'll need to tackle playing most pop and traditional songs, all on one page. Print it off and keep it handy when you practice.
The majority of these chords I use every day and in nearly every video I have on the YouTube Channel.  (Did you subscribe yet?)
And if you're looking for a more complete guide to dulcimer guitar chords, check out ours!