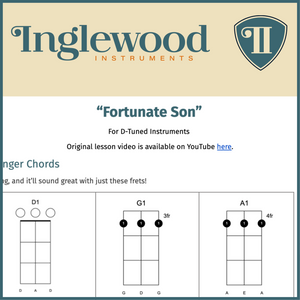 Did you know that according to his 2015 memoir, John Fogerty says he was thinking about David Eisenhower, the grandson of President Dwight D. Eisenhower, who married Julie Nixon, the daughter of then-President-elect Richard Nixon in 1968 when he wrote "Fortunate Son"? There was a particularly fortunate son in mind!

The chord guide is straightforward, as it's only 3 chords, so watch the video (nearer the end) for how to play a modified version of the iconic opening riff. If you needed something to practice, you found it.  The left-hand moves on the opening riff will keep you working! 

Enjoy, and do let us know if you have questions about it.
If you somehow managed to navigate straight to this page and didn't see our other songs, check them out... an ever-growing set of Dulcimer TABs Song Guides, including the Complete Stick Dulcimer Guitar Chord Guide.