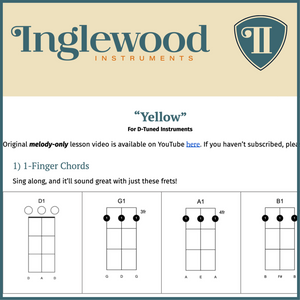 The breakout hit from Coldplay's 1999 debut album.

(Fun fact, Chris Martin readily admits the lyrics to this song mean basically nothing... funny how we've all read something deeply meaningful into it, right?)
Check out our Complete stick dulcimer guitar chord guide, and enjoy the complete lesson video.
This version is for D-Tuned stick dulcimer guitars. If you'd like to play it in another key, check out the Free Dulcimer Key Change Guide.
And if you haven't seen them, we have an ever-growing set of other Dulcimer TABs Song Guides! Check them out.
 Play "Yellow" Along with a Cello! 
(as my kids would say, "Yellow and Cello rhythm!")

Play "Yellow" along with another Seagull Merlin Dulcimer